Quinoa Salad with Apples
Serves 8
Total Time: 30 minutes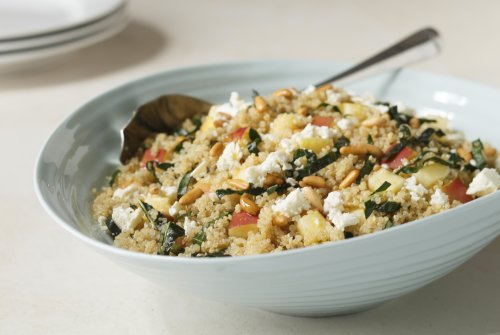 INGREDIENTS
DRESSING INGREDIENTS
Juice of 1 large lemon
2 teaspoons honey
1 medium shallot
1/2 teaspoon kosher salt
3 tablespoons olive oil

SALAD INGREDIENTS
3 cups very thinly sliced kale (about 1/3 of a standard bunch)
1 1/2 cups quinoa
3 cups water
1 teaspoon plus 1/4 teaspoon kosher salt
2 tablespoons olive oil
2 large tender-sweet apples, such as Fuji or Gala, unpeeled and cut into 1/2-inch cubes
2 teaspoons sugar
1/3 cup toasted pine nuts
4 ounces crumbled feta
DIRECTIONS
In a small bowl, whisk together the lemon, honey, shallot, and salt. Add the olive oil in a thin stream, whisking as you go. Set aside.
Put the kale in a serving bowl and set aside. Put the quinoa, water, and 1 teaspoon salt in a medium saucepan, cover, and set over high heat. Bring to a boil, then reduce heat to low and cook until all the water is absorbed, about 15 minutes. Remove from heat and let sit 5 minutes, then fluff with a fork and add it to the bowl with the kale.
Set a large skillet over medium-high heat. Add oil, heat for a minute, then add apples and 1/4 teaspoon salt. Cook, stirring, for 2 minutes, then add sugar and continue cooking and stirring until the apples begin to turn golden, 5 to 7 minutes. Add apples to the bowl with the quinoa, then add the pine nuts, feta, and dressing and toss until evenly combined.
Recipe courtesy of U.S. Apple Association