Nutty Apple-Filled Muffins
Serves 12-24
Total Time: 55 minutes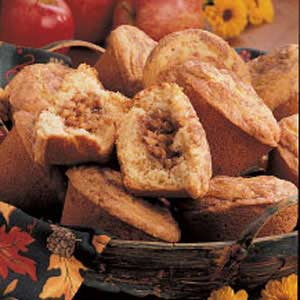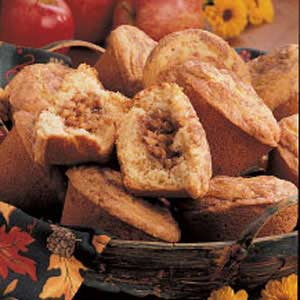 INGREDIENTS
2 tablespoons butter
1/3 cup packed brown sugar
1 tablespoon all-purpose flour
1/2 teaspoon ground cinnamon
1/8 to 1/4 teaspoon ground nutmeg
2 cups diced peeled apples
1/2 cup finely chopped nuts
MUFFINS:
3/4 cup butter, softened
1-1/2 cups sugar, or less to your taste
3 large eggs
1-1/2 teaspoons vanilla extract
3-1/2 cups all-purpose flour
1-1/2 teaspoons baking powder
1-1/2 teaspoons baking soda
3/4 teaspoon salt
1-1/2 cups sour cream
Cinnamon-sugar
DIRECTIONS
In a saucepan, melt butter. Stir in brown sugar, flour, cinnamon and nutmeg until smooth. Add apples; cook over medium-low heat for 10 minutes or until tender, stirring frequently. Remove from heat; stir in nuts. Cool.

In a bowl, cream butter and sugar. Add eggs, one at a time, beating well after each. Beat in vanilla. Combine dry ingredients; add to creamed mixture alternately with sour cream.

Spoon 1/4 cupsful of batter into greased jumbo muffin cups. Spoon apple mixture into the center of each (do not spread). Top with remaining batter. Sprinkle with cinnamon-sugar. Bake at 350° for 25-27 minutes or until muffins test done. Cool for 5 minutes before removing from pans to wire racks.
Note: If using regular-size muffin cups, fill cups half full with batter; add a rounded teaspoonful of apple mixture and remaining batter. Bake for 16-18 minutes.
Recipe courtesy of Taste of Home