Things to do at Sunrise Orchards
Not only does Sunrise Orchards offer more than 21 delicious varieties of apples, we also provide a full day of fun for the whole family!
Not only does Sunrise Orchards offer more than 21 delicious varieties of apples, we also provide a full day of fun for the whole family!
Step inside our newly expanded retail area, where you'll find plenty of space for convenient shopping and larger restrooms for your comfort. As you browse, don't miss the Apple Corner Shop, home to our beloved Sunrise Express Model Train. It's a favorite spot for all generations to gather and marvel at the intricate details of this miniature marvel. And while you're there, be sure to check out our Apple Corner Bakery, where the aroma of freshly baked goodies fills the air.
Speaking of the bakery, treat yourself to a warm, freshly made donut or irresistibly delicious cookies. Pair it with a cup of our aromatic coffee or hot apple cider to truly indulge your senses. As you enjoy your treats, take a moment to watch our apple packing TV screen, which gives you a behind-the-scenes glimpse of how our apples are carefully washed, sorted, and packed.
But what's a trip to Sunrise Orchards without sampling our incredible apple varieties? Throughout the season, we offer samples of our current apple selection so you can taste the crispness, sweetness, and unique flavors of each variety. And during Honeycrisp apple season, don't miss the opportunity to savor our exclusive Sunrise Honeycrisp Apple Cider - a true delight for your taste buds.
If you're craving something more, our assortment of delicious specialty foods will surely satisfy. From savory to sweet, we have something to please every palate. And for a truly decadent treat, try the Queen's Apple - apple slices smothered in caramel, nuts, whipped cream, and topped with a cherry. It's fit for royalty and available on weekends during the height of the apple season.
When it's time to quench your thirst, cool down with a serving of our cold and refreshing Sunrise Apple Slush. It's the perfect way to enjoy the natural sweetness of our apples on a hot day.
After you've savored all the deliciousness, make sure to explore our expanded gift shop, now conveniently located on the east end of the building. Discover unique mementos, local crafts, and delightful treasures that make perfect gifts for yourself or loved ones.
And if you're visiting on a peak season weekend, don't forget to check out our Food Stand, where local non-profit groups serve up delicious food. Located near the big maple trees in the back of the south parking lot, it's the perfect spot to refuel and support community organizations.
Finally, don't miss the Curd Mobile, a weekend treat that offers fresh batter-fried cheese curds, soft serve ice cream, and more! Indulge in these scrumptious delights and make lasting memories with your loved ones.
Sunrise Orchards is a destination for family fun, delectable treats, and unforgettable experiences. Join us and create beautiful autumn memories that will last a lifetime.
Sunrise Family Park
Experience the perfect day out with your loved ones at Sunrise Family Park. Our park offers a range of family-friendly activities that will keep everyone entertained.
Challenge your family to an exciting game of lawn checkers, a classic game that never fails to bring joy and laughter. Watch as smiles light up their faces while they strategize their next move.
For those seeking an adrenaline rush, head over to the Sunrise Corral to enjoy our horse tire swings. These swings are always a hit with kids and adults alike, providing a thrilling experience that will make memories to last a lifetime.
If you're in the mood for some friendly competition, our lawn bowling lanes are set up for your enjoyment. Grab a ball, gather your family, and let the games begin. It's the perfect opportunity to bond and create unforgettable moments together.
And don't forget to visit our play area, where you'll find a selection of pre-picked pumpkins. Let your little ones choose their favorite pumpkin, adding a touch of autumn magic to your day out.
At Sunrise Family Park, we prioritize creating lasting memories for families like yours. Join us for a day of fun, laughter, and quality time with the ones you love the most.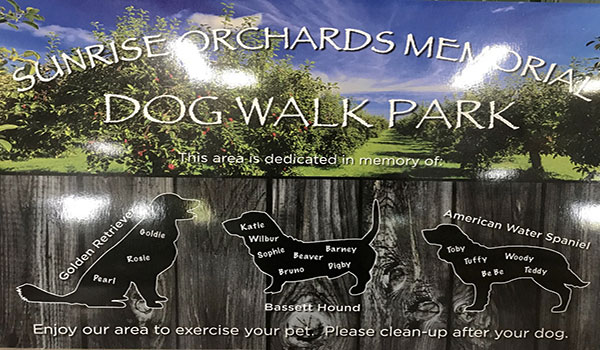 Sunrise Orchards Dog Walk Area
Welcome to the Sunrise Orchards Dog Walk Area, where your furry friend can enjoy a refreshing stroll along side of our beautiful orchard. We understand that our pets are part of the family, and we want them to have an amazing experience during their visit to our orchard.
Our Sunrise Memorial Dog Walk Park is a specially designated area for dog owners to take their beloved companions for a leisurely walk. Located on the east-end of the building, the park is conveniently accessible from the east parking lot, making it easy for you and your pup to start exploring.
As you venture into the dog walk area, you and your four-legged friend will be mesmerized by the stunning surroundings, with rows upon rows of luscious fruit trees creating a picturesque backdrop.
The fresh air and tranquil atmosphere make our dog walking area the perfect place for you and your pet to escape the hustle and bustle of everyday life.
At Sunrise Orchards, we prioritize the happiness and well-being of your furry family members, which is why we have carefully designed this dedicated space for them to roam and stretch their legs. We believe that a visit to our orchard should be an inclusive experience for everyone, and that includes our furry friends.
So, grab your leash, bring your pup, and join us at Sunrise Orchards Dog Walk Area for a memorable outing that both you and your pet will cherish. The serenity of our orchard awaits you, providing the perfect environment for your doggie adventure. We can't wait to see you and your furry friend exploring our picturesque dog walk park.