Things to do at Sunrise Orchards
Not only does Sunrise Orchards offer 22 delicious varieties of apples, we offer fun for the whole family!
Enjoy our newly expanded retail area, providing more space for your shopping convenience and new larger restrooms.
Entertaining for all generations, is our Sunrise Express Model Train, located in the Apple Corner Shop, next to the Apple Corner Bakery.
Families appreciate the children's reading area, where they can pick out books to take home.

(ON HOLD FOR 2020)

At the bakery, enjoy a warm donut, mouth-watering cookies, coffee and hot apple cider while you shop.
Watch our apple packing TV screen, to see the process of washing, sorting and packing apples.
Sample our various apple varieties available throughout the season, located next to the apples in the Apple Store.
Enjoy a sample of our Sunrise Apple Cider and Sunrise Honeycrisp Apple Cider* located at the east end of the building, across from the gift shop. (*Available during Honeycrisp apple season.) (ON HOLD FOR 2020)
Sample our assortment of delicious specialty foods, located at the east end of the building, across from the gift shop.
Try the Queen's Apple, a mouth-watering treat of apple slices with caramel, nuts, whipped cream and a cherry on top. Fit for a Queen! (Available weekends, during the height of the apple season.)
Enjoy a serving of our cold Sunrise Apple Slush, located next to the apple cider cooler in the Sunrise Apple Store.
Explore our expanded gift shop, now located on the east end of the building.
We're serving up yummy food in our Food Stand, staffed by a variety of local non-profit groups, on select weekends. The area organizations are looking forward to serving you! The Food Stand is located at back of the north parking lot.

(ON HOLD FOR 2020)

Enjoy the Curd Mobile's fresh batter fried cheese curds, milk shakes and more, on select weekends! Located on the west end of our building, near the motorcycle parking. The Curd Mobile will be here each weekend in October!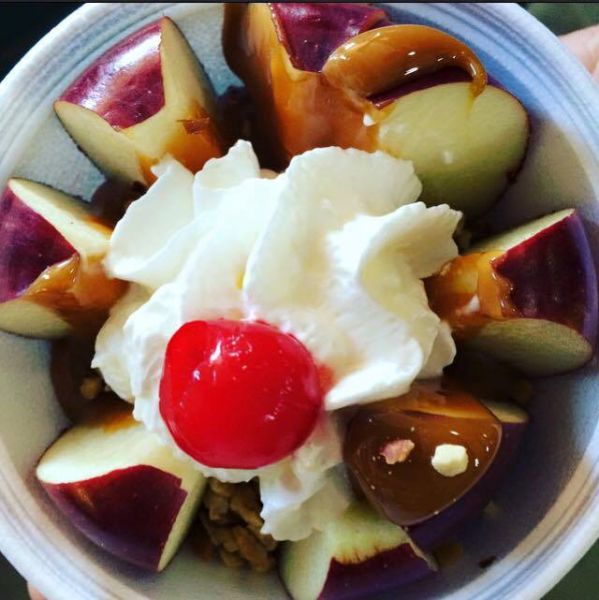 Sunrise Family Park
Bring your family out to enjoy our Sunrise Family Park. Our lawn checkers game is sure to please the entire family. Horse-play allowed on our horse tire swings at the Sunrise Corral. Plus, the lawn bowling lanes are set up for your fun! Plus, pick out your favorite pumpkins, in our pumpkin patch! (CLOSED FOR 2020)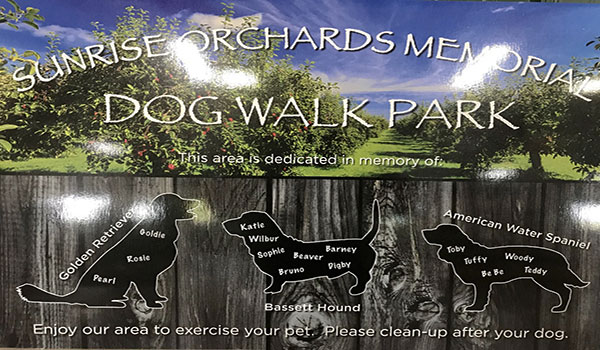 Sunrise Orchards Dog Walk Area
For the family pet, our Sunrise Memorial Dog Walk Park, is a designated area to walk your dog. We all love our pets and want them to enjoy a trip to our orchard as well. Located on the east-end of the building; the east parking lot provides easy accessibility to the dog walk park.