Sunrise Orchards Events
2023 Schedule of Events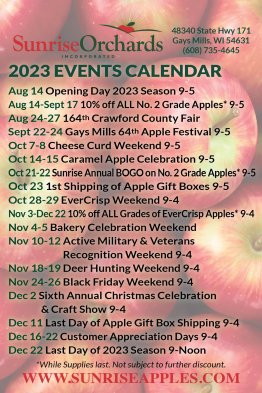 August 14 - December 22
Here are our 2023 Schedule of Events!
---
Past Events
Christmas Celebration & Craft SALE - Saturday Dec 3rd + Weekend Specials!
December 3-4
Christmas Celebration & Craft SALE
Saturday December 3rd from 9am to 4pm
Saturday December 3rd:
Come to Sunrise Orchards this Saturday for our 4th annual Christmas Celebration! Santa is stopping by from 11 am to 3 pm.

Visit the Craft Sale from 9 am to 3 pm Saturday

Free apple cider donut! Limit one per customer - Saturday only
Saturday December 3rd & Sunday December 4th:
Kids - be sure to enter our coloring contest for a Sunrise Orchards gift certificate!

FREE Christmas cookies, hot cider and coffee

Bring in a canned food item for the local food pantry, receive a half gallon of regular cider

25% off ALL boxes of Number 2 grade apples

50% off boxes of #1 grade large sized McIntosh – impressive gift item

50% off three-apple pouches of jumbo Honeycrisp, EverCrisp, Ambrosia or McIntosh – great "Apple for the Teacher" gift
There's a good selection of apples available, plus, donuts, cider, specialty foods and gifts! Our Apple Store Gift Shop has handcrafted signs, Christmas ornaments, tumblers, Christmas cards, calendars, children's books, shirts, kitchen items, home décor and more.
HOURS:
November, December: 9am - 4pm DAILY
Last Day of Season: Dec 23rd 9 am – Noon
Senior Shopping: 8am - 9am DAILY
Retail Season 8/15/2022 - 12/23/2022
Online Store open 24/7
Sunrise Orchards
48340 State Hwy 171
Gays Mills, WI 54631
608-735-4645
---
October 2022 Events at Sunrise Orchards!
October 1-31
Here's our 2022 Events Calendar highlighting our October Events.
We look forward to seeing you soon!
We're Open Daily!
AUG 15 - OCT 31: 9am - 5 pm ~ NOV 1 - DEC 22: 9am - 4 pm ~ DEC 23: 9 am - Noon
Senior Shopping: 8am - 9am (Closed Thanksgiving)
Sunrise Orchards, Inc.

48340 State Hwy 171
Gays Mills, WI 54631
608-735-4645
www.SunriseApples.com
---
2022 Food Stand Dates
September 10 - October 30
Join us at the food stand!
Local non-profit groups are looking forward to serving you at our food stand this season. Thank you for supporting them. Stop by for a bite to eat and enjoy their tasty food!
The food stand is located at the north side of the parking lot.
The fried Cheese Curd Mobile will be in its traditional location at the west end the Sunrise retail building.
Click here for a printable/larger view of our Food Vendor Dates.
---
Donut S-A-L-E!
September 10-11
A Donut SALE +
Sweet and Sour Donuts
ONE Weekend ONLY!
Welcome to our Donut SALE the weekend of September 10th - 11th! Enjoy the savings on our legendary apple cider donuts – fresh and frozen are each on sale. Take home a dozen or more!
This weekend only we're featuring our unique Sweet and Sour apple cider donut with chopped Dudley apples in the batter. It's a delicious sweet and sour bite! Sweet and Sour donuts won't be on sale.
Enjoy a warm donut while you shop. Made fresh daily!
OPEN DAILY!
AUG 15 - OCT 31: 9am - 5 pm ~ NOV 1 - DEC 22: 9am - 4 pm ~ DEC 23: 9 am - Noon ~ Senior Shopping: 8am - 9am (Closed Thanksgiving)
Sunrise Orchards, Inc.
48340 State Hwy 171
Gays Mills, WI 54631
608-735-4645
www.SunriseApples.com
---
2022 Events Calendar
---