What a delicious to use Sunrise apples this season!
We think you'll enjoy making this easy slow cooker applesauce recipe. This delicious and healthy unsweetened recipe is "sweetened" only with the Sunrise apples you prepare it with. The cinnamon applesauce can be refrigerated, frozen or even canned. Be sure to check out all our recipes: www.sunriseapples.com/recipes
Our Cinnamon Applesauce recipe is below. Here's the link on our recipe page where you can print our this recipe: www.sunriseapples.com/recipes/sandwiches-sauces-soups/cinnamon-applesauce
Cinnamon Applesauce
Serves 6
Total Time: 4 hours, 10 minutes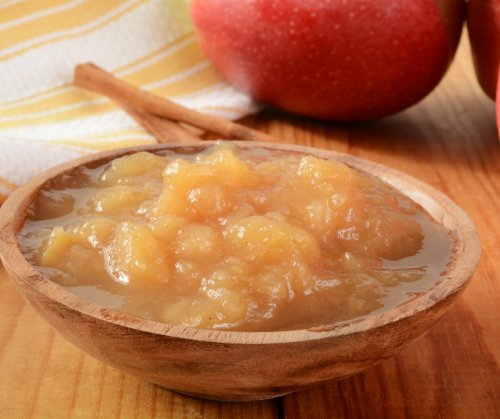 INGREDIENTS
3 pounds Sunrise apples, peeled, cored and cut in chunks
1/4 cup - 1/2 cup water or Sunrise apple cider
1-2 tablespoons fresh lemon juice, optional
2-3 whole cinnamon sticks, or substitute 1/2 teaspoon ground cinnamon for each cinnamon stick
1 pinch of salt (1/8 - 1/4 teaspoons)
DIRECTIONS
1. Place the peeled, cored apple chunks in the slow cooker.
2. Add lemon, salt and add water (or cider) and cinnamon sticks, then stir to mix.
3. Cover the slow cooker and cook on low for 4 hours or 2 hours on high, or until apples are tender.
4. Uncover the slow cooker and use a potato masher to coarsely mash the apples. If you want a smoother sauce, puree with an immersion blender, food processor or blender. Be careful when handling hot apples and juice.
5. Transfer the cinnamon applesauce to sterilized jars and let cool, then cover and refrigerate for up to two weeks or freeze for later.
Recipe courtesy of Sunrise Orchards, Inc.