Apple-Cran Granola Bars
Serves 16
Total Time: 1 hour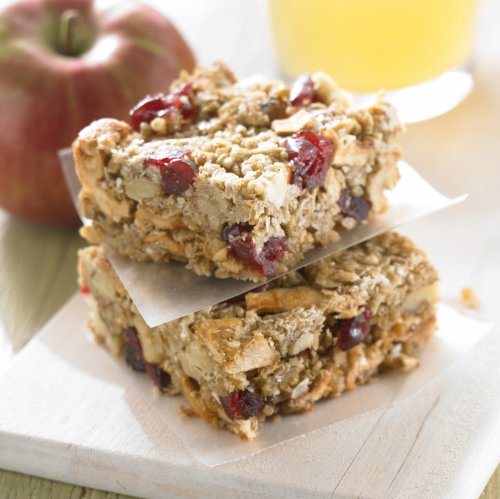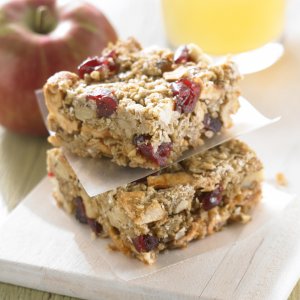 INGREDIENTS
Nonstick cooking spray
1 1/4 cups coarsely chopped dried apples
1/4 -1/3 cup apple cider
1/3 cup dried cranberries, coarsely chopped
2 cups quick-cooking oats
1 cup slightly chopped walnuts
1/2 cup toasted wheat germ
1/3 cup steel-ground oats
1/2 cup Agave Nectar*
1/4 cup packed light brown sugar
2 tablespoons canola oil
1 teaspoon vanilla extract
1/4 teaspoon salt
1/8 teaspoon baking soda
*Light Corn Syrup may be substituted for Agave Nectar, using same measurement
DIRECTIONS
Preheat oven to 300 degrees Fahrenheit. Line the inside of a 9-inch-square baking pan or dish with heavy foil, extending foil over edges of pan. Generously coat foil with cooking spray. Set pan aside.

Combine apples, juice and cranberries in small saucepan. Bring to a boil; reduce heat. Simmer, uncovered, over medium-low heat about 4 minutes or until juice has evaporated and fruit is softened. Remove from heat; set aside.

Place quick-cooking oats, walnuts, wheat germ and steel-cut oats in a single layer in a large, shallow baking pan. Bake in preheated oven about 15 minutes or until lightly brown, stirring once halfway through baking. Remove from oven; cool slightly.

Meanwhile, stir together agave nectar, brown sugar and oil in medium saucepan. Bring to a boil; reduce heat. Gently simmer over medium heat for 1 minute. Remove from heat. Stir in vanilla.

Immediately, stir in salt and baking soda until mixture just begins to foam. Then stir in oat mixture until evenly coated. Then stir in the apple mixture. Transfer to the prepared baking pan. Press mixture down firmly with the back of a spatula or metal spoon lightly sprayed with nonstick coating.

Bake about 20 minutes or until top begins to lightly brown. Cool completely in baking pan. Use foil to lift granola out of pan. Cut into bars; remove from foil. Store in a single layer in a tightly covered container at room temperature for up to 3 days.
Recipe courtesy of U.S. Apple Association