PB, Apple & J
Serves 4
Total Time: 15 minutes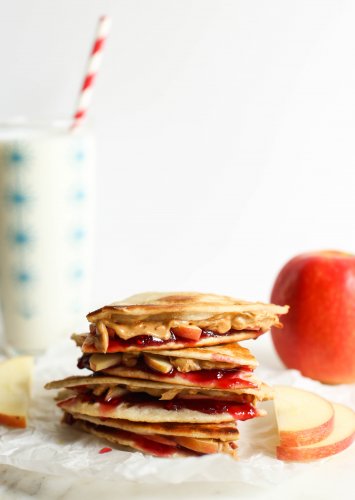 INGREDIENTS
1 TSBP unsalted butter
4 flour tortillas (8-inch size)
1/2 cup chunky peanut butter
1/2 cup raspberry preserves
1-2 Fuji apples,* thinly sliced
DIRECTIONS
On a plate or cookie sheet, assemble by spreading one tortilla with peanut butter and apple slices.

Spread second tortilla with jam. Put the two tortillas together.

Heat a sauté pan with oil or butter. Carefully cook quesadilla over medium-high heat; flip gently with a large spatula.

Once both sides are crisp and toasty, remove from the heat and cool. Slice each quesadilla into 4 pieces and serve.

*Note: Feel free to substitute a similar apple for the Fuji variety.
Recipe courtesy of U.S. Apple Association