Apple and Cheddar Quick Bread
Serves 4
Total Time: 1 hour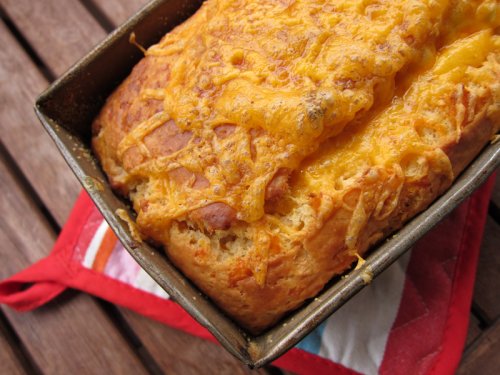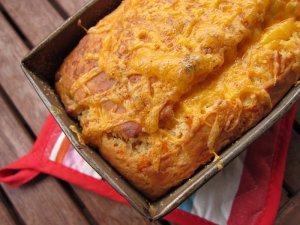 This delicious bread is versatile! It works well with soups and stews and toasted for breakfast.
INGREDIENTS
1 3/4 c all-purpose flour
2 1/2 t baking powder
1/2 t salt
3/4 c milk + 2 T
1/3 c canola oil
1 egg
2 T brown sugar
1 c finely diced apples
1 c strong cheddar cheese, grated
3 T cheddar cheese, grated
DIRECTIONS
Preheat oven to 400F. Prep your 8×4 loaf pan* by lightly greasing it with butter and then use a mixture of cornmeal and flour to dust the insides with – about a spoonful of each should do. Shake out any excess and set aside.
In a medium bowl, combine the flour, baking powder and salt and whisk everything together. Set aside.
In a large bowl, mix together the milk, oil, egg and brown sugar until well blended. Pour in the diced apples and stir in the flour mixture. Add in the cheese in 3 handfuls – stirring between each addition.
Pour the batter into your prepared loaf pan and bake for 45-50 minutes.
Sprinkle the remaining cheese over top of the bread and cook for 10 minutes longer until the cheese melts and the bread is cooked all the way through – use a wooden skewer in the middle of the loaf to test doneness.
*if your loaf pan is larger, reduce the baking time by 10-15 minutes.
Recipe courtesy of everybodylovesandwiches.com