Apple Walnut Muffins
Serves 12
Total Time: 40 minutes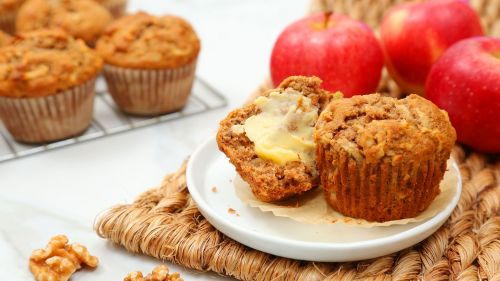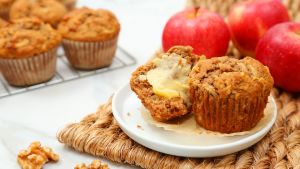 INGREDIENTS
2 cups flour
1/4 cup cane sugar
3 teaspoons baking powder
½ teaspoon salt
2 teaspoons cinnamon
3 tablespoons melted butter
1 cup apple cider
½ cup chopped walnuts
2 apples, peeled, diced
DIRECTIONS
Grease muffin pan or use muffin liners.

In a large bowl, mix together, dry ingredients.

In a small bowl, beat together melted butter, egg and cider.

Make a well in the center of dry ingredients and pour in the wet ingredients.

Add walnuts and diced apple.

Mix only until all ingredients are moistened. Don't over mix.

Spoon into prepared pan and fill 2/3 full.

Bake at 400 degrees F, 20-30 minutes or until the muffin tops are nicely browned.
Note: Muffins freeze well.
Photo Courtesy of Pinterest
Recipe courtesy of Healthy to the Core! Cookbook by Lee Jackson