Apple Puff Omelet
Serves 4-6
Total Time: 30 Minutes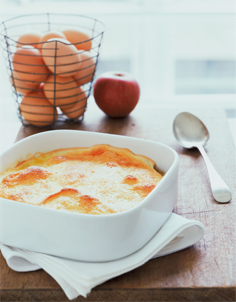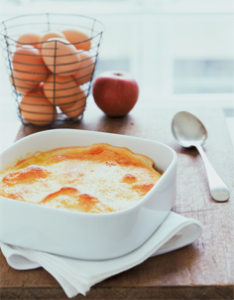 INGREDIENTS
2 large apples
1/4 cup sweet butter or margarine
1/4 cup brown sugar
1 teaspoon ground cinnamon
4 large eggs
1/4 cup sugar
1/4 teaspoon cream of tartar
1 tablespoon confectioners' sugar
DIRECTIONS
Preheat oven to 450 degrees Fahrenheit.

Peel, core and thinly slice apples. Heat butter or margarine in a medium-size skillet and sauté the apples for 5 minutes over low heat.

Mix together brown sugar and cinnamon. Sprinkle over apples. Toss and continue to sauté apples for about 10 minutes, until they caramelize. The mixture will be thick and syrupy.

Spoon mixture into an 8×8-inch baking dish and keep hot in the oven.

Separate the eggs, then whisk the yolks and the granulated sugar in a small bowl until thick. In a large bowl, beat egg whites with cream of tartar until stiff and shiny. Fold into yolk mixture, a third at a time.

Pour egg mixture over the apples and bake for 8-10 minutes. The omelet will be puffed and golden.

Remove from the oven and sprinkle with confectioners' sugar. Serve immediately.
Recipe courtesy of U.S. Apple Association