Chunky Apple Butterscotch Bars
Serves 24
Total Time: 1 hour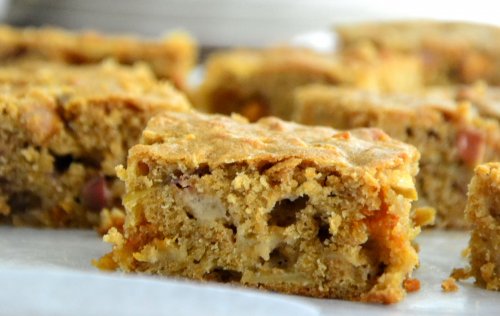 INGREDIENTS
3/4 cup unbleached flour
3/4 cup whole wheat pastry flour
1 teaspoon baking powder
1/4 teaspoon baking soda
1/2 teaspoon salt
1 1/2 sticks unsalted butter, melted, plus more for pan
1 1/2 cups light brown sugar
2 large egg
1 teaspoon vanilla
3 cups finely chopped apples, you can leave the peels on
1/2 cup butterscotch chips
DIRECTIONS
Preheat the oven to 350 F. Butter a 13x9 inch rectangular baking pan and reserve. In a large bowl, whisk the unbleached flour, pastry flour, baking powder, baking soda and salt.

. In a medium bowl, combine the melted butter and brown sugar and stir with a heavy spoon, mashing any lumps of sugar until smooth. Beat in the eggs and vanilla, just until well-mixed. Scrape the butter mixture into the flour mixture and stir, mixing until all the flour is incorporated. Stir in the chopped apples, then spread in the baking pan. Sprinkle the butterscotch chips over the batter.

Bake for 35-40 minutes, until a toothpick inserted in the center of the pan comes out with only moist crumbs attached, and the top of the bars are golden brown.

Let cool for at least 10 minutes on a rack before cutting. Chill the bars completely to get neat squares when cutting. Cut into 24 bars.
Recipe courtesy of U.S. Apple Association