Easy Applesauce Cake
Serves 8
Total Time: 1 hour 10 minutes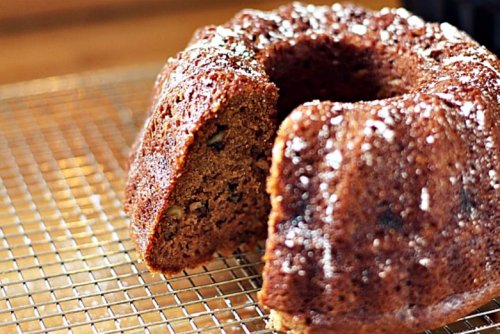 INGREDIENTS
2 1/4 cup whole wheat pastry flour (all-purpose flour can be used, too)
2 teaspoon baking soda
3/4 teaspoon salt
1 teaspoon cinnamon
1/4 teaspoon nutmeg
2 cups brown sugar
2 cups unsweetened applesauce
2/3 cup vegetable oil
2 eggs
1 tablespoon vanilla
1/2 cup chopped walnuts (optional)
Powdered sugar (optional)
DIRECTIONS
Preheat oven to 350 degrees.

Spray your bundt pan with nonstick cooking spray & set aside.

In a large bowl, combine flour, baking soda, salt, cinnamon, & nutmeg. Mix well and set aside.

In a separate bowl, combine sugar, oil, eggs, & vanilla. Using a whisk, mix together until nice and smooth.

Pour wet ingredients into dry ingredients. Using a spoon, stir gently until combined. Fold in walnuts. Pour mixture into prepared bundt pan.

Bake at 350 degrees for 45-50 minutes or until firm to the touch and toothpick comes out clean when inserted. Place cake on cooling rack and let cool completely in pan. Once cooled, invert cake and remove from pan. Dust with powdered sugar, and enjoy!
Recipe courtesy of U.S. Apple Association