Apple Cheddar Mac and Cheese
Serves 4
Total Time: 55 minutes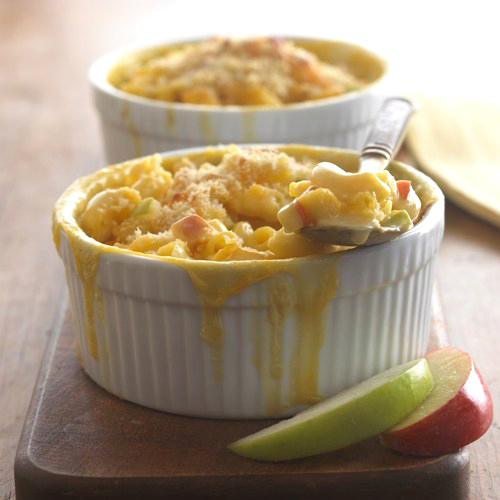 INGREDIENTS
1 ¼ cup dry elbow macaroni (5 ounces)
1 ½ cup small diced, unpeeled, tart red apples
2 tablespoons butter
¼ cup finely chopped onion
2 tablespoons all-purpose flour
2 ¼ cup whole milk (lower fat milk can be substituted)
1 small bay leaf
2 1/3 cup shredded sharp white or yellow cheddar cheese (about 10 ounces)
½ teaspoon dry sherry
Salt to taste
Ground white pepper to taste
DIRECTIONS
Preheat oven to 350° F. Butter a 11/2-quart round casserole; set aside.

Cook pasta in large saucepan according to package directions until al dente. Rinse with cold water to stop the cooking; drain well. Return pasta to saucepan. Add apples.

Meanwhile, melt butter in medium heavy saucepan. Add onion and cook over medium heat about 3 minutes or tender. Stir in flour; cook and stir about 1 minute or until fragrant.

Slowly stir in milk with wire whisk. Bring mixture to a gentle simmer, stirring constantly. Add bay leaf. Reduce heat to low and cook sauce for 10 minutes, stirring often.

Remove and discard bay leaf. Stir in 2 cups of the cheese and dry sherry. Cook and stir about 1 minute or until cheese is melted. Remove from heat; season to taste with salt and pepper.

Add cheese sauce to pasta-apple mixture; gently stir until well combined. Transfer mixture to prepared casserole. Sprinkle with remaining 1/3 cup cheese and panko. Bake, uncovered, in preheated oven about 30 minutes or just until heated through and lightly browned. Let stand about 5 minutes before serving.
Recipe courtesy of U.S. Apple Association