Pork Tenderloin with Sausage-Apple Stuffing and Mustard Pan Sauce
Serves 6
Total Time: 50 minutes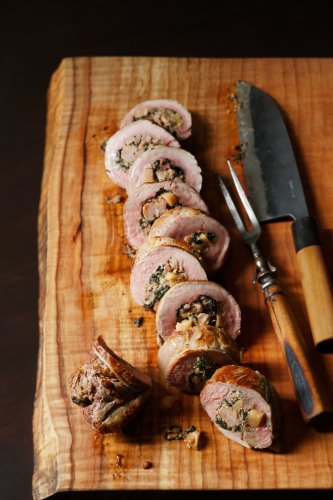 INGREDIENTS
TENDERLOIN INGREDIENTS:
4 tablespoons oil, divided
1/2 medium yellow onion, diced
1 1/2 tablespoons finely chopped fresh sage leaves
1/2 plus 1 teaspoon kosher salt
1/2 pound sweet Italian sausage, removed from casings
1/2 - 1 large firm-sweet apple, peeled and diced
3 leaves Swiss chard or kale, stems removed, leaves finely chopped
1/2 cup panko bread crumbs
1 pound pork tenderloin (1 to 1 1/4 pounds)

SAUCE INGREDIENTS:
1 cup chicken stock
1/2 cup apple cider
1 teaspoon Dijon mustard
1/2 cup heavy cream
Drippings from roasting pan
DIRECTIONS
Put 10 toothpicks in a bowl of water to soak.

Set a large (14-inch) skillet over medium heat and add 2 tablespoons oil. Add the onion, sage, and salt and cook, stirring often, until the onions turn translucent, about 8 minutes. Increase heat to medium-high and add sausage, breaking it up into small pieces with a wooden spoon as it cooks. When the meat is cooked through, add apple and chard (or kale) and cook, stirring, until the greens are tender, about 5 minutes. Add panko, stir, and set aside.

Preheat oven to 325˚ and set a rack to the middle position.

Butterfly the pork: Make a 1-inch-deep cut down the length of the tenderloin (do not cut all the way through). Open the meat like a book, so the meat lies flat.

Cover the meat with plastic wrap and pound with a mallet or rolling pin until it is about ½ inch thick and at least 6 inches wide. Sprinkle all over with the remaining 1 teaspoon salt. Spoon the filling down the center of the meat and bring the sides up tightly around the filling. Secure the seam with the toothpicks, going down the length of the tenderloin. Tuck any ragged ends in.

Pour the remaining 2 tablespoons oil in the skillet and set over medium-high heat. Brown the tenderloin on each side, about 4 minutes per side, then transfer the meat to a 9- by 13-inch baking dish. Transfer the dish to the oven and roast until the meat is cooked through (cut to check), 20 to 25 minutes. Remove from oven, tent loosely with foil, and let cool for 15 minutes.

Meanwhile, make the sauce: Set the skillet over medium-high heat and add the stock. Bring to a simmer, stirring with a wooden spoon to pick up any browned bits. Add the cider and mustard and whisk to combine. Cook until the mixture is reduced by half, then stir in the cream and any drippings from the pan. Taste to check seasonings; add additional salt if needed.
Recipe courtesy of U.S. Apple Association