Apple Sweet Potato Gratin With Pecans
Serves 4
Total Time: 60 minutes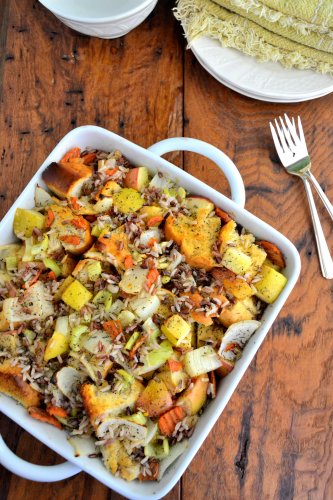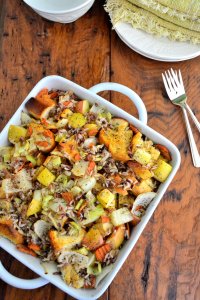 INGREDIENTS
1 3/4 pounds sweet potato, about 2 large
2 tablespoons unsalted butter, divided
1/2 teaspoon dried thyme
1/2 teaspoon salt
2 cups gingersnaps (4 ounces), 1 cup crumbs
4 ounces sharp cheddar cheese, finely shredded
1/4 cup light brown sugar
2 large baking apples (Jonagold, Fuji, EverCrisp, Golden Delicious), peeled whole
1/2 cup pecan pieces, chopped
DIRECTIONS
Preheat the oven to 400 F. Lightly oil a sheet pan. Using a sharp chef's knife, halve the sweet potatoes lengthwise, and place them cut-side down on the pan. Bake them until they are tender when pierced with a paring knife, about 40 minutes, depending on size. Cool the sweet potatoes on the pan and chill in the refrigerator until cold, preferably overnight.

Preheat the oven to 400 F, and use a couple teaspoons of the butter to grease a 2-quart baking dish. Strip the skins from the cold sweet potatoes, and place them cut-side down on the cutting board. Slice them cross-wise into slices about 1/3-inch-wide, keeping the in their original shape, then place each half in the buttered pan. When all the sweet potatoes are in the pan, spread the slices with your fingers to fan them out and form an even layer. Sprinkle with thyme and salt and reserve.

In a food processor, grind the gingersnaps to make coarse crumbs. Transfer to a medium bowl and add the cheddar cheese and brown sugar, toss to mix. Sprinkle half of the mixture over the sweet potatoes in the pan.

Peel the apples and cut each in half vertically, then pare out the core and seeds. Place on the cutting board cut-side down and slice cross-wise into 1/4-inch slices. Fan the slices over the sweet potatoes in the pan.

Chop the pecans and dice the remaining butter and mix into the remaining cheddar mixture. Sprinkle over the apples in the pan.

Bake for 25 minutes, then check to see if the top is browning. If it's golden brown, cover loosely with foil, then bake for 15 minutes more, to heat through.

Let cool on a rack for 5 minutes before cutting.
Note: This recipe is great the second day and can keep up to a week covered.
Recipe courtesy of U.S. Apple Association