Apple Crisp - Gluten Free!
Serves 8
Total Time: 3 hours 15 minutes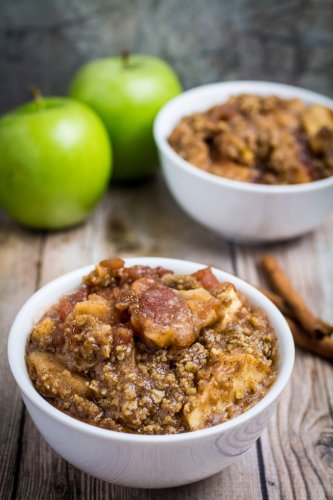 INGREDIENTS
For the Apples
6-7 apples peeled, cored and sliced
Juice of 1 lemon
1/4 cup white sugar
1 tsp vanilla extract
1 tsp cinnamon
1/2 tsp baking powder
For the Topping
1/2 cup dry oats (instant or rolled certified gluten free)
1/2 cup all-purpose flour gluten free
8 tbsp butter unsalted, 1 stick
3/4 cup brown sugar
1/4 cup white sugar
1 tsp cinnamon
1/4 tsp nutmeg
1/4 tsp salt
DIRECTIONS
Place sliced apples in slow cooker.

Add lemon juice, cinnamon, white sugar, baking powder, and vanilla extract. Stir until apples are evenly coated.

In a mixing bowl, add oats, flour, brown sugar, white sugar, cinnamon, nutmeg, and salt. Stir to combine all ingredients.

Cut butter into flour mixture.

Using a spoon or your hands, combine flour mixture and butter until it forms a dough.

Crumble dough on top of apples evenly.

Serve warm and top with vanilla ice cream.

Place lid on slow cooker and set on High for 2 hours OR Low for 4 hours.

Open lid part way and cook for about an additional hour to let top get "crispy".

Serve warm and top with vanilla ice cream if desired.
Recipe courtesy of Jacqui at DishingDelish.com