Apple Crisp Stuffed Apples
Serves 4
Total Time: 6 hours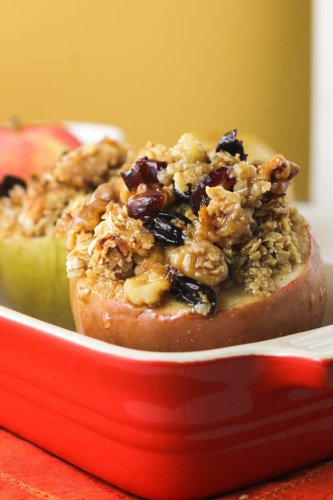 INGREDIENTS
4 apples
½ cup brown sugar
½ cup maple syrup
¼ cup butter
¾ cup chopped walnuts
1 cup quick cooking oat
1 teaspoon Cinnamon
¼ cup dried cranberries or raisins
1 cup apple juice or apple cider
DIRECTIONS
Wash and core the apples.

In a mixing bowl, mix the brown sugar, maple syrup, butter, walnuts, oat, cinnamon, and cranberries.

Divide the mixture between the apples, packing the wells firmly.

Spray the slow cooker with a non-stick spray, add the apple juice, then gently place your apples inside.

Cover and cook on low for 6 hours. You can test the apples by poking a paring knife through the oatmeal mixture and into the interior of the apple; it should slide into the apple easily When ready, the apples should be very soft to the touch/poke.
Recipe courtesy of Citronlimette