Butternut Squash Coconut Chili
Serves 8
Total Time: 6 hours 10 minutes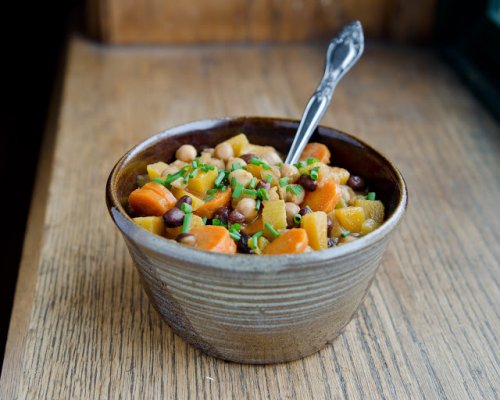 INGREDIENTS
1 small onion, peeled and finely chopped
2 stalks of celery, chopped
2 carrots, peeled and chopped
2 medium apples, peeled and diced
2 cups of peeled + diced butternut squash
4 cloves of garlic, peeled and finely minced (or 1 tsp of garlic powder)
1 medium can of black beans, drained + rinsed
1 medium can of chickpeas, drained + rinsed
1 can (400ml) of low-fat coconut milk
2 teaspoons of chili powder
1 tablespoon of ground cumin
1 teaspoon of dried oregano
2 cups of vegetable broth
2 tablespoons of tomato paste
salt and pepper to taste
cooked basmati rice (optional)
chopped fresh cilantro, parsley or chives (for garnish)
shredded unsweetened coconut (for garnish)
DIRECTIONS
Place all ingredients except the garnishes/rice in a slow cooker. Cook on high heat for 4 to 6 hours (or on low for 8 hours).

During the last hour, taste the chili and season with salt and pepper. Add more chili powder as desired. Add a pinch of cayenne pepper if you like chill on the spicy side. In the last 45 minutes of cooking, open the lid to allow the chili to thicken. If the chili looks a bit dry, add a bit more vegetable broth.

Serve over basmati rice. Garnish with fresh herbs and shredded coconut.
Recipe courtesy of The Fig Tree