Applesauce Cinnamon Bread
Serves 16
Total Time: 1 hour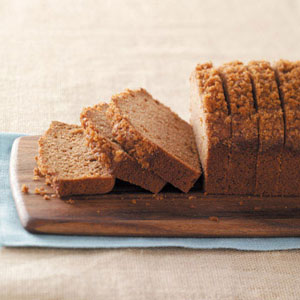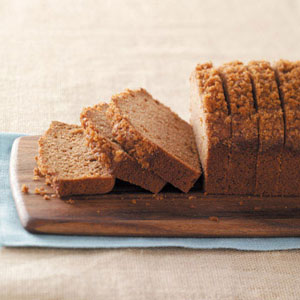 INGREDIENTS
1 cup all-purpose flour
1 cup whole wheat flour
1/2 cup sugar
1-1/2 teaspoons ground cinnamon, divided
1 teaspoon baking soda
1/2 teaspoon salt
1/2 teaspoon baking powder
1/4 teaspoon ground nutmeg
2 large egg whites
1 large egg
1-1/4 cups unsweetened applesauce
1/4 cup vegetable oil
3 tablespoons fat-free milk
1/4 cup packed brown sugar
DIRECTIONS
In a large bowl, combine the flours, sugar, 1 teaspoon cinnamon, baking soda, salt, baking powder and nutmeg. In a small bowl, whisk the egg whites, egg, applesauce, oil and milk. Stir into dry ingredients just until moistened.

Transfer to a 9x5-in. loaf pan coated with cooking spray. Combine brown sugar and remaining cinnamon; sprinkle over the top.

Bake at 350° for 50-60 minutes or until a toothpick inserted in the center comes out clean. Cool for 10 minutes before removing from pan to a wire rack.
Recipe courtesy of Taste of Home