Pumpkin Applesauce Mini-Muffins
Serves 9
Total Time: 40 minutes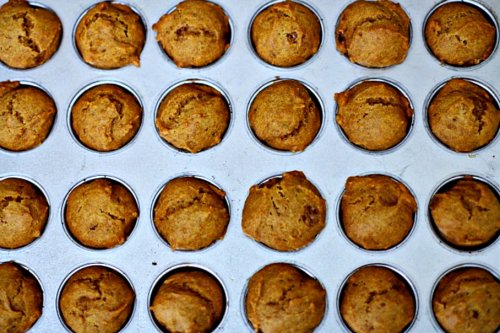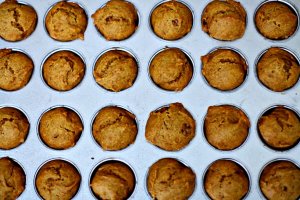 INGREDIENTS
2 cups whole wheat pastry flour (or all-purpose flour)
1/2 cup brown sugar
1 1/2 teaspoon baking soda
1/2 teaspoon salt
1 teaspoon pumpkin pie spice
1 cup canned pumpkin
1/2 cup applesauce
1/2 cup vegetable oil
1 tablespoon vanilla
DIRECTIONS
Preheat oven to 325 degree. Spray your mini-muffin pan with non-stick cooking spray.

In a large bowl combine flour, sugar, baking soda, pumpkin pie spice, and salt. Whisk together to combine. Set aside.

In a smaller bowl, combine your apple sauce, vegetable oil, vanilla, and canned pumpkin. Stir until all ingredients are combined.

Add your wet ingredients to your dry ingredients. Stir until all ingredients are mixed through.

Using a small spoon or a melon ball scooper, scoop the muffin batter into the muffin tin. Only fill each cup 3/4 full.

Bake for 15-20 minutes, rotating pan once halfway through cooking.
Recipe courtesy of U.S. Apple Association