Aunt Odie's Fresh Apple Glazed Cookies
Total Time: 15 minutes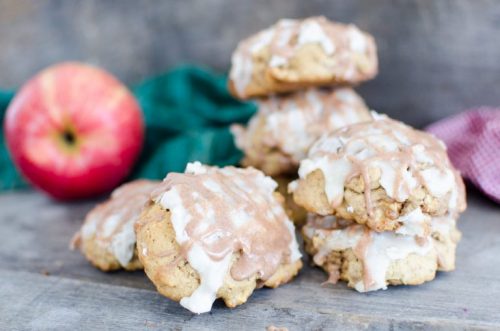 A delicious Teach Family recipe!
INGREDIENTS
1/2 cup shortening
1 1/3 cups brown sugar
1 large egg
2 cups flour
1 tsp baking soda
1/2 tsp salt
1 tsp cinnamon
1/2 tsp baking powder
1/4 tsp ground clove
1/4 tsp ground nutmeg, or pumpkin pie spice
1 1/2 cups chopped apples
1 cup chopped walnuts
1/4 cup apple juice or milk
1 cup chopped dates or raisins
DIRECTIONS
Preheat oven to 350 degrees F (174 degrees C)

In a large bowl, cream together the shortening, brown sugar and egg. Sift together flour, soda, salt, cinnamon, baking powder, cloves, nutmeg.

To the first mixture add 1/2 of dry mixture. Then add apples, nuts, juice and dates. Add other half of dry mixture.

Drop by spoon on greased cookie sheet and bake for 10-12 minutes.
GLAZE
1 1/2 cup powdered sugar
2 1/2 tbs light cream or apple cider
1 tbs melted butter
1/4 tsp vanilla
Mix together all ingredients in medium bowl and drizzle over freshly baked cookies while still warm.
Recipe courtesy of Teach Family Recipe