Apple Turkey Chili
Serves 4
Total Time: 30 minutes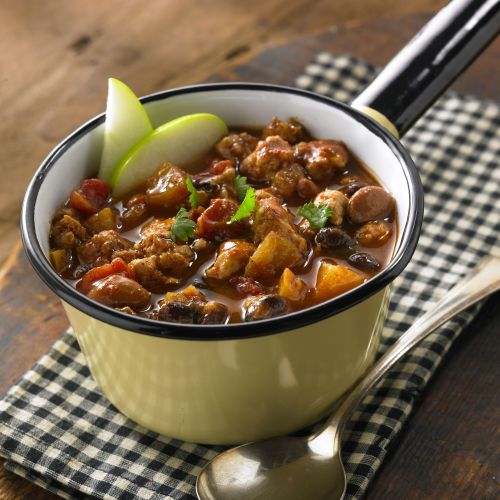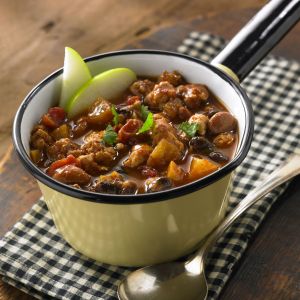 INGREDIENTS
2 teaspoons olive or vegetable oil
1/2 cup chopped onion
2 tablespoons minced seeded jalapeño pepper
2 cloves garlic, minced (1 teaspoon)
1 pound 97% lean ground turkey
4 teaspoons chili powder
1/2 teaspoon salt
1/2 teaspoon ground cumin
1/2 teaspoon dried oregano leaves
1 15-ounce can no-salt-added black beans, drained and rinsed
1 cored and diced, unpeeled mildly tart, crisp apple (such as a Jonagold)
15-ounce can no-salt-added chili beans in chili sauce, undrained
14.5-ounce can no-salt-added small diced tomatoes, undrained
2/3 cup apple cider
1/2 teaspoon packed brown sugar
2 to 3 tablespoons Reduced-fat or fat-free sour cream
Thin apple wedges (optional)
Thin lime wedges (optional)
Cilantro sprigs (optional)
DIRECTIONS
Heat oil over medium heat in large skillet. Add onion, jalapeño, and garlic; cook for 2 to 3 minutes or until onion is tender.

Add ground turkey to onion mixture; cook over medium heat for 6 to 8 minutes or until turkey is no longer pink, breaking turkey in to 3/4-inch crumbles. Stir in salt, chili powder, cumin, and oregano; cook 30 seconds more. If necessary, drain and discard juices.

Stir in diced apple, black beans, chili beans with sauce, tomatoes, apple cider, and brown sugar. Bring to a boil; reduce heat. Gently simmer over low to medium-low heat, covered, about 15 minutes or until to desired consistency. Ladle the chili into bowls. Top with sour cream. If desired, garnish with apple and lime wedges, and cilantro.
Recipe courtesy of U.S. Apple Association