Apple Cinnamon Pork Loin
Serves 6
Total Time: 6 hours 20 minutes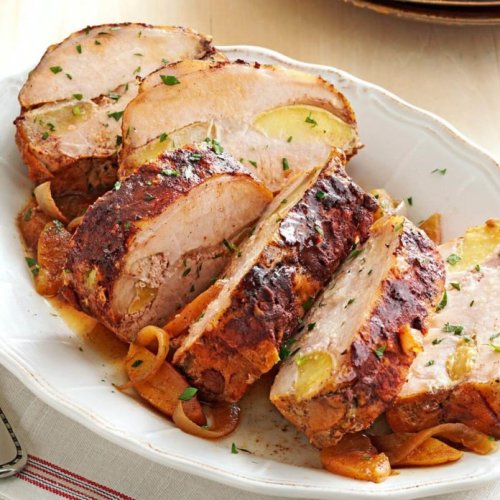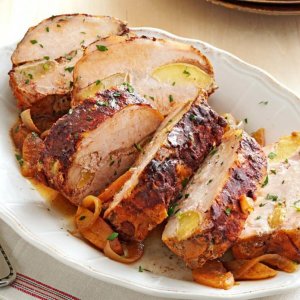 INGREDIENTS
1 boneless pork loin roast (2 to 3 pounds)
1/2 teaspoon salt
1/4 teaspoon pepper
1 tablespoon vegetable oil
3 medium apples, peeled and sliced, divided
1/4 cup honey
1 small red onion, halved and sliced
1 tablespoon ground cinnamon
Minced fresh parsley, optional
DIRECTIONS
Sprinkle roast with salt and pepper. In a large skillet, brown roast in oil on all sides; cool slightly. With a paring knife, cut about sixteen 3-in.-deep slits in sides of roast; insert one apple slice into each slit.

Place half of the remaining apples in a 4-qt. slow cooker. Place roast over apples. Drizzle with honey; top with onion and remaining apples. Sprinkle with cinnamon.

Cover and cook on low for 6-8 hours or until meat is tender. Remove pork and apple mixture; keep warm.

Transfer cooking juices to a small saucepan. Bring to a boil; cook until liquid is reduced by half. Serve with pork and apple mixture. Sprinkle with parsley if desired.
Recipe courtesy of Taste of Home