Cheese Stuffed Apple Chicken Meatballs
Serves 16 meatballs
Total Time: 50 minutes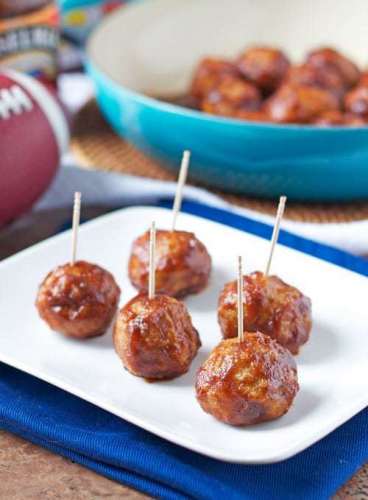 INGREDIENTS
1/4 small tart apple — grated
1/4 small red onion — grated
1 teaspoon minced garlic — 2 cloves
1/2 teaspoon ground cinnamon
1/2 teaspoon kosher salt
1/4 teaspoon freshly ground black pepper
1 large egg white
1/2 cup panko bread crumbs
1 pound ground chicken
4 ounces extra-sharp cheddar cheese — cut into 1/2-inch cubes
2 tablespoons unsalted butter
3/4 cup apple butter
1/2 cup homemade barbecue sauce — or store-bought prepared sauce
DIRECTIONS
Place rack in the center of your oven and preheat oven to 400 degrees. Line a large rimmed baking sheet with tin foil, then set an ovenproof wire rack on top. Coat rack with nonstick spray. Set aside.

In a large bowl, stir together apple, red onion, garlic, cinnamon, salt, pepper, egg white, and panko. Add ground chicken and lightly mix with a fork until just combined, being careful not to compact the chicken. Divide the mixture into quarters, then separate each quarter into 4 balls. Press a cube of cheddar into the center of each ball, then close chicken around the cheese to seal it. Arrange meatballs on the prepared baking sheet. Bake for 16 to 18 minutes, until cooked through.

To finish the meatballs on the stove: In a large skillet, stir together the apple butter and barbecue sauce. Add butter and stir until melted. Add cooked meatballs to the skillet, with a spoon, gently coat the meatballs in sauce. Place a lid on top of the skillet and reduce heat to low to keep warm.

To finish the meatballs in a slow cooker: After step two, place the cooked meatballs in the bottom of a slow cooker. In a small sauce pan over medium low, stir together the butter, apple butter, and barbecue sauce until the butter melts. Pour sauce over the top of the meatballs, toss gently to coat, and keep warm in the slow cooker.
RECIPE NOTES
Unbaked meatballs can be prepped up to 1 day in advance. Place formed, unbaked meatballs in an air-tight container lined with plastic wrap, fit the container with a lid, and refrigerate until ready to bake. Baked meatballs can be refrigerated in an air-tight container for up to two days. Reheat gently in the microwave or on the stove.
Recipe courtesy of Well Plated